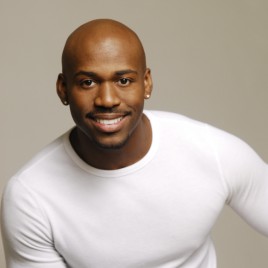 World renowned fitness trainer Dolvett Quince has partnered with innovative product development company and specialty retailer Brookstone to announce a new BodyForm Foam Roller that is set to revolutionize the fitness and athletic industry.
On January 5, 2015 Brookstone introduced the BodyForm Foam Roller, which combines vibration massage with the deep tissue massage of a traditional roller. The product is the first being released in the company's new partnership with Quiince. As a part of their partnership, Quince was featured in an exercise booklet, which provides consumers advice on how to use the roller to maximize benefits. The illustrated booklet features photos of Quince demonstrating each BodyForm Foam Roller exercise and includes routines and tips.
Dolvett Quince is one of the most remarkable fitness trainers in the world. Currently he serves as one of the lead trainers on the hit NBC show "The Biggest Loser". His proven results on the show are a reflection of his long career as a trainer in the Atlanta, Georgia area. In addition to his duties on the show he operates his personal training studio in Atlanta with the mission of changing lives one rep at a time. His appearance on the show has launched his business to unprecedented success, which several top name athletes and celebrities seeking him out for top-notch training sessions. Throughout his career he has developed personalized training regiments for his clients and combined them into a high-intensity circuit-training class called Pure Energy.
To inquire about Dolvett Quince's speaking fee and appearance cost, contact the agents at Athlete Speakers by calling us at 800-916-6008 or by Starting Your Booking Request Now.
Watch Dolvett Quince Speaking about his new book: