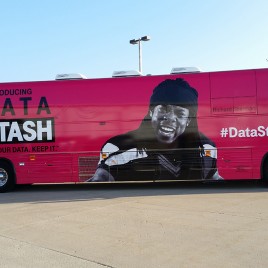 Seattle Seahawks star cornerback Richard Sherman is preparing with his team to take on the New England Patriots in the Super Bowl on Sunday, February 1, 2015. In the meantime however, he is busy landing new endorsement deals.
This week, T-Mobile announced a new partnership with Sherman that will see him appearing in upcoming T-Mobile digital, print and out-of-home advertising. The deal kicks off during Super Bowl week, with T-Mobile branding three shuttle buses with Richard Sherman's likeness with the purpose of offering rides for fans to the big game.
According to T-Mobile, this new deal will extend through the 2015 season and will also feature Sherman participating in the company's social media advertising campaign. With a degree in communications from Stanford University, Sherman is one of the most effective communicators in the National Football League. As one of the most popular and outspoken players in the league, he attracts attention in a positive way that will no doubt serve T-Mobile well over the next year and for years to come.
Sherman played an instrumental role in the Seahawks' Super Bowl championship in 2013, recording 48 tackles and 8 interceptions on the season in route to earning Pro Bowl and NFL All-Pro honors. He is a shut down cornerback that opposing defenses fear and wide receivers have nightmares about. This season he topped that performance with 57 tackles and four interceptions and has once again led the Seahawks back to the Super Bowl.
To inquire about Richard Sherman's speaking fee and appearance cost, contact the agents at Athlete Speakers by calling us at 800-916-6008 or by Starting Your Booking Request Now.
Watch Richard Sherman Giving one of the Best Interviews in NFL History: