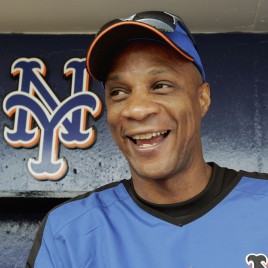 Major League Baseball legend Darryl Strawberry will be the keynote speaker at the Mercer University Baseball's 2015 First Pitch Classic on Tuesday, February 10 at Hawkins Arena. The seventh annual event serves as the main fundraiser for the Mercer University baseball program, and allows fans to meet the coaching staff and team prior to their season kicking off in early February.
The event is set to begin at 5:30 p.m. in the President's Dining Room with an autograph session, where Strawberry and players and coaches from the Mercer baseball team will meet with the fans. At 7:00 p.m. the event will move to Hawkins Arena, where dinner will be served and Strawberry will deliver his keynote address.
On the field Strawberry is known for his 335 home runs, 1,000 RBI and illustrious 17 year major league career that saw him capture All-Star appearances in eight of his first nine seasons. Although he struggled with addiction and off the field issues in the latter years of his career, he managed to still make his way back to the field. By not giving up and conquering his demons, he is both admired and respected by the fans and his former teammates and coaches.
To inquire about Darryl Strawberry's speaking fee and appearance cost, contact the agents at Athlete Speakers by calling us at 800-916-6008 or by Starting Your Booking Request Now.