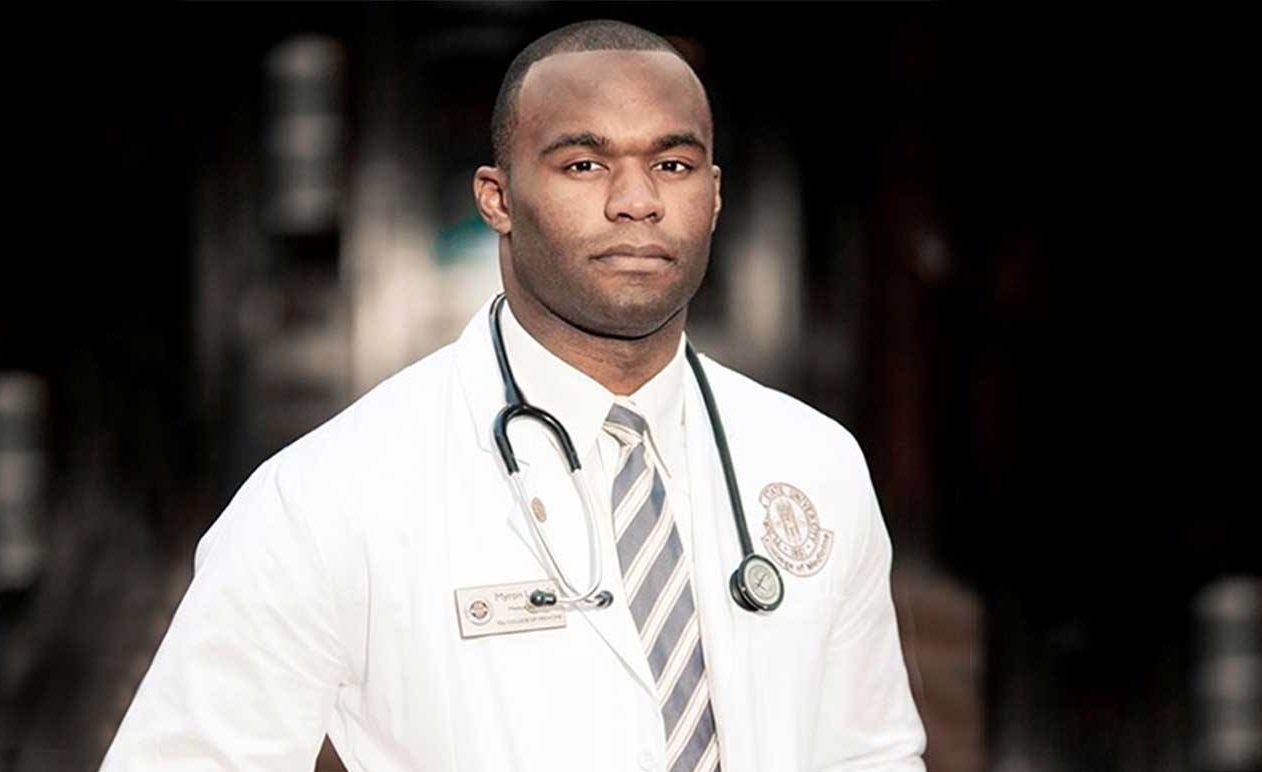 Myron Rolle has led a fascinating life. The former prep football superstar shined at Florida State, became a Rhodes scholar, got an opportunity to play in the NFL, but instead decided to pursue a higher calling in medicine.
Now, Rolle is back in the news as one of the thousands of medical professionals serving on the front lines battling the coronavirus. While as a neurosurgery resident, he is a bit out of his comfort zone, he has been logging 24-hour shifts at Massachusetts General Hospital.
In March, the hospital's neurosurgery floor became a COVID-19 ward. It is a challenge Rolle says has its own parallels to football.
"When there's something we weren't prepared for on the football field, you have to be able to use your mind, be creative, communicate, get lined up and get ready to do the play, get ready to execute," Rolle told the Boston Globe. "This is analogous to that; it's exactly what we're doing here and everyone has sort of taken that mindset, which has been helpful."


While Rolle and all his other colleagues may have been thrown for a loop, his schedule these days is fairly repetitive. When he arrives to work, he has to declare that he has no possible coronavirus symptoms and then gets outfitted with protective gear.
Rolle's time is spent treating patients, deciding who exactly needs hospital bed space and dealing with neurosurgery cases only on an emergency basis. He tries to limit his exposure to others once he leaves the hospital so he can stay healthy and useful in this global battle.
While Rolle is plenty busy, he is also keeping his eye on his former industry. And he has words of wisdom for the decision-makers in sports trying to decide when is the right time to return to action.
"The sports world, the administrators and the leagues, they need to place a high premium on the health of America, the health of the world and certainly this country," Rolle said. "That includes the fans, the players and everyone involved. Put that the first priority. Place the convenience of getting back sports — which we all love, I certainly love it, I'm an advocate for sports and an advocate for football — put that second."
Rolle still has a connection to the sports world as a consultant on issues like brain injuries in football. His wealth of experience has made him sought-after as a keynote and motivational speaker on many topics.
It is amazing to think of where Rolle is now considering his pigskin pedigree. Two of his cousins, Samari and Antrel Rolle, were Pro Bowl defensive backs.
Rivals.com ranked Rolle as a top-15 prospect coming out of high school. He attended Florida State after growing up idolizing Deion Sanders and earned many accolades, including Freshman All-American honors.
Still, the duality of his dreams led him off the field as well. He was awarded his Rhodes Scholarship immediately prior to playing in a game for the Seminoles against Maryland.
Rolle used that scholarship to get his master's in medical anthropology from Oxford University and then went back to football, playing two seasons in the NFL with Tennessee Titans. In 2012, he left the sport behind for good, enrolling in FSU's College of Medicine before becoming a resident at Harvard Medical School.
After his essential work with the coronavirus, Rolle will continue on his path to living up to the legacy of the second person he looked up to growing up, pioneering neurosurgeon Ben Carson.
If you are interested in booking Myron Rolle for an appearance or as a keynote speaker, contact the agents at Athlete Speakers by calling us at 800-916-6008 or by Starting Your Booking Request Now.
Myron Rolle Speaks at North Carolina Central University: