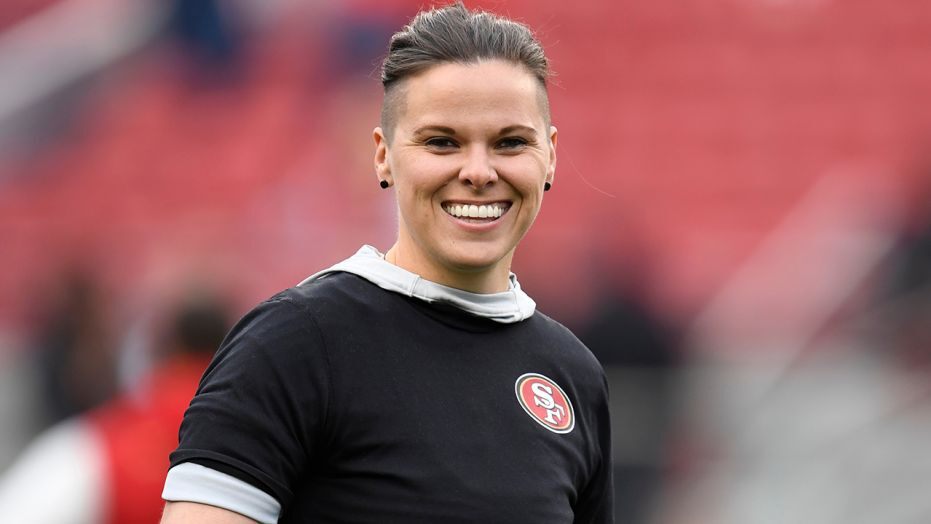 Super Bowl LIV stands as yet another trailblazing milestone day for San Francisco 49ers assistant coach Katie Sowers. When she walks out on the field in Miami, she will become the first female and openly-gay person to coach in a Super Bowl.
Sowers is sure to be one of the headline stories throughout the week. That spotlight will only increase her growing platform as a highly sought-after keynote speaker.
Sowers has already spoken at prestigious events like the Aspen Ideas Festival. She has also become a popular guest for conferences focusing on gender equality and LGBTQ rights.
Sowers summarized her mission beyond football in an interview with Outsports in 2017.
"No matter what you do in life, one of the most important things is to be true to who you are," said Sowers. "There are so many people who identify as LGBT in the NFL, as in any business, that do not feel comfortable being public about their sexual orientation. The more we can create an environment that welcomes all types of people, no matter their race, gender, sexual orientation, religion, the more we can help ease the pain and burden that many carry every day."
In addition to coaching, advocating for a more inclusive workplace and garnering more speaking opportunities, Sowers has also caught the eye of companies looking for a brand ambassador. A Microsoft Surface commercial that highlights her journey has been airing throughout the NFL Playoffs and generating quite a bit of publicity.
Sowers has lived out her childhood dreams that were highlighted in the ad, spending eight years as a player in the Women's Football Alliance and also as a member of the United States Women's National Football Team. She went on to serve as the athletic director of the City of Kansas and as a scout for the Atlanta Falcons.
Sowers was hired by the Niners in 2017, making her just the second woman to hold a full-time coaching role in the NFL. She is in her second season as an offensive assistant with the franchise.
Sowers has received several honors, including the 2019 Sport360 rising star award and the 2017 OutSport female hero of the year. She was also named to the Bleacher Report Power 50 in 2017.
To inquire about the speaking fee and appearance cost for Katie Sowers, contact the agents at Athlete Speakers by calling us at 800-916-6008 or by Starting Your Booking Request Now.
Katie Sowers Story Chronicled by NBC Sports Bay Area: