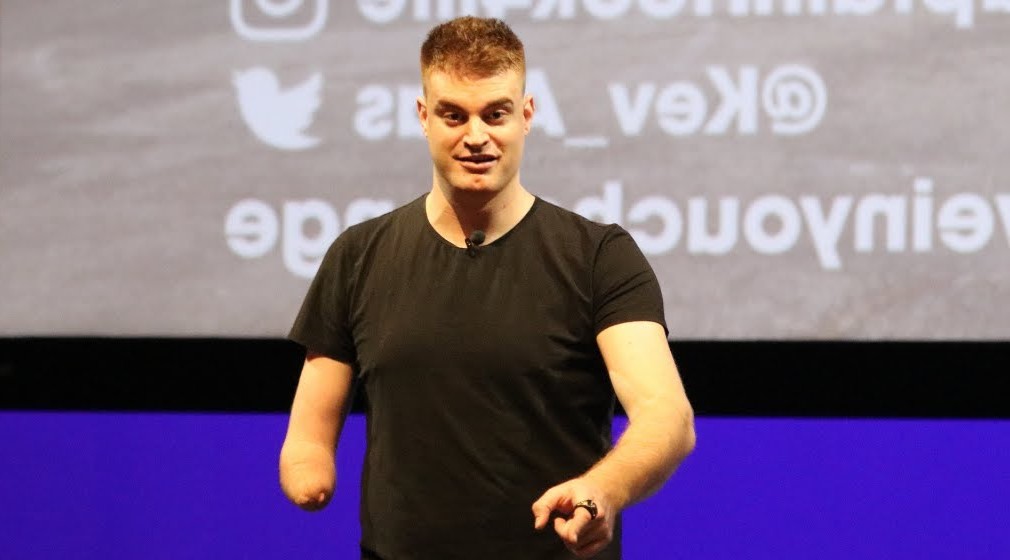 Kevin Atlas, a motivational speaker, author, and former Division I basketball player born with half of a left arm, spoke at an all-school assembly for approximately 840 students in Severance High School.
During the assembly, Atlas, a 32-year-old motivational speaker, author, businessman, and father, shared his experiences encouraging the audience's students to maintain a positive environment and build self-discipline, empathy, and hard work. He drew from his own experiences and challenges, stressing that success is up to them and that they must focus on their dreams to achieve them.
"The only person who can make you successful is you," Atlas said during the assembly. "What you want out of life is up to you. If you're floating through and not focusing on your dreams…then it's not going to happen."
FEATURED LIST: Athletes Who Have Overcome Disabilities
Atlas visited Severance as part of the Believe in You speaking tour from Varsity Brands. This Dallas-based company elevates the student experience through sport, spirit, and achievement. According to Varsity Brands' LinkedIn page, the company aims to partner with educators, coaches, and students to build school pride, student engagement, and community spirit.
During his presentation, Atlas engaged with students and referred to his discontinued left arm as his "nub." He emphasized his struggles with academics in school and the death of his father, which he overcame to become one of the top high school basketball players in California before earning a Division I basketball scholarship at Manhattan College.
Severance High School Principal, Waren Morrow, suggested Atlas as a speaker to help celebrate, promote, and maintain a positive culture at the school. While students were not available to discuss Atlas' talk, he met with student council members following the all-school assembly. Atlas also visited additional schools in Fort Collins and Denver as part of the Believe in You speaking tour.
"We're celebrating, promoting, and maintaining a positive culture," Morrow said before the assembly. "It's another step in the work we do around here."
To book Kevin Atlas or other inspirational sports speakers, contact Athlete Speakers today. Our experienced booking agents will get you the perfect standout speaker based on your budget and event theme. Please fill out our Online Booking Request Form for the quickest response or call 1-800-916-6008 to start the booking process.