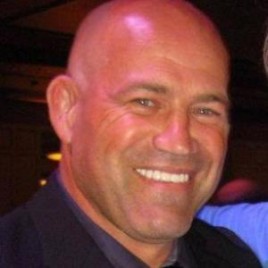 Former wrestler and Olympian Mark Schultz was the keynote speaker for Golden Crescent Habitat for Humanity's Speaking Of Sweat Equity Series on March 28 to benefit the organization and help them raise funds for future projects. Schultz also took the time to speak backstage at the Victoria Fine Arts Center to local high school students to answer questions about his life and career, and provide them with some motivation to keep them going at whatever they are doing. His talk to the audience was focuses on his wrestling achievements and obstacles, and what he had to do in order to make it as successful as he did.
Schultz and his brother Dave were one of the only pairs to wrestle together in large scale events until his untimely death on January 26, 1996 when he was murdered by multimillionaire and philanthropist John Eleuthere du Pont. As one could image this event had a huge impact on the wrestler, however he used that obstacle to get a win just a few months later at an event in UFC 9. The Olympic gold medalist is also a World Championships winner of the 1985 Budapest and 1987 Clearmont-Ferrand Games, and he was also able to take home the gold in the 1982 Toledo World Cup and 1987 Indianapolis Pan American Games.
Following his brother's death, Schultz wrote a book about what happened with his murder and it was quickly picked up to be turned into the movie "Firecatcher" in 2014 starring Steve Carell and Channing Tatum.
The keynote speech that Schultz gave at the end of March was to help raise money for Habitat for Humanity, which is something that the wrestler felt like he could really connect to. He had stated that he always had an interest in building homes, and was glad that his story could be used to benefit the organization to help more people get homes and shelters. Overall, it was a very motivating talk and Schultz has one of the most compelling stories in the world of sports to tell.
To inquire about Mark Schultz's speaking fee and appearance cost, contact the agents at Athlete Speakers by calling us at 800-916-6008 or by Starting Your Booking Request Now.
Watch Mark Schultz Speaking about the movie and book Foxcatcher: