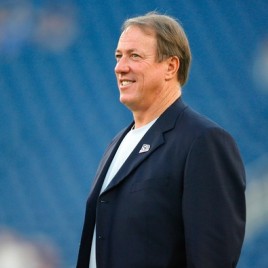 Legendary NFL Quarterback Jim Kelly attended the 13th Annual YMCA of South Palm Beach County on March 24 at the Office Depot Headquarters to help raise money for the Peter Blum family. The five-time Pro Bowl player gave a speech and emphasized how important volunteerism is because people need to find a way to depend on one another. He spoke about his family tragedy regarding the loss of his young son Hunter to a rare disease at the age of 8 years old, and also about his current battle against jaw cancer that he is dealing with right now. When Kelly sat down with the some of the guests for breakfast at the event, he told them that despite everything it is important to keep a smile on their faces, especially when helping others overcome an illness or obstacle. After eating, Kelly took the time to do a football toss and conduct a trivia game for everyone to participate in.
The former Buffalo Bills quarterback was selected to play for the team after his USFL team, the Houston Gamblers, folded their franchise. From there he led the Bills to between the years of 1988 and 1995 and finished his career with over 35,000 yards thrown on the field for the NFL. The four-time AFC champion also had his number 12 jersey retired from the Buffalo team, which is the only time that the franchise has ever done the in their history. In addition to that, Kelly is the only quarterback in NFL history to bring his team to four consecutive Super Bowls even though they did not win any of them.
His keynote speech was a touching one that allowed his audience to relate to him on a personal level, and it was a great opportunity for fans to have a deeper appreciation for the player and all that he accomplished before, during, and after his sports career despite his many challenges. Overall, it was a very successful night and fundraiser for the YMCA and they were grateful to have Kelly on board.
To inquire about Jim Kelly's speaking fee and appearance cost, contact the agents at Athlete Speakers by calling us at 800-916-6008 or by Starting Your Booking Request Now.
Watch Jim Kelly Delivering a Keynote Speech to Packed Audience: