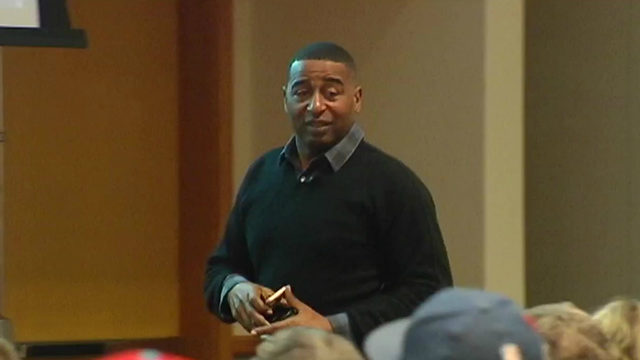 Many people know Cris Carter for his Hall of Fame exploits, but few know the difficult road he had to achieve football immortality. Last week, he was at DeSales University to speak about his battles with addiction.
Carter discussed how he was able to overcome alcohol and drug addiction to become a football success. He talked about the role treatment specialists had in helping him and promoted the local Ambrosia Treatment Center, who he is an ambassador.
"We want to try to get as many people in the tri-state Philadelphia area into rehab as possible," Carter said. "We realize that drugs have ruined our communities and I left here, able to get my life together,"
Early in his career, Carter failed several drug tests. It was only after he was cut by the Philadelphia Eagles that he overcame his issues and set out on a path to become an NFL legend.
Carter was selected to eight straight Pro Bowls once he joined the Minnesota Vikings. He led the league in receiving touchdowns three times and receptions once.
Carter was a three-time All-Pro who left the Vikings as their all-time leading receiver. He also received redemption with an off the field award after winning the Walter Payton NFL Man of the Year in 1999.
Carter is a member of the Minnesota Vikings Ring of Honor and he was inducted into the Pro Football Hall of Fame in 2013. He has been a successful broadcaster since retiring and currently co-hosts "First Things First" on Fox Sports 1.
To inquire about Cris Carter's speaking fees and appearance costs, contact the agents at Athlete Speakers by calling us at 800-916-6008 or by Starting Your Booking Request Now.
Highlights from Cris Carter's Hall of Fame Speech: