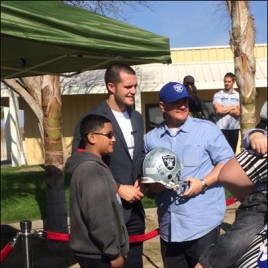 Oakland Raiders star quarterback Derek Carr returned to his hometown of Bakersfield, California on Sunday, February 1 to share his faith at Liberty Christian Center and meet with fans. In addition to legions of fans showing up to meet him, his family was also there to support him.
During his testimony, Carr revealed how he got up in the party scene and was headed in a direction that was not beneficial for his life or football career. However, he got back on the right track by relying on his faith and with the support of his wife and family.
"The opportunity came up where they wanted me to come back to our church," said Carr. "This is where my grandfather was the pastor for many years, and before that was my uncle."
Clearly the people of Bakersfield love Carr and his family. Fans from around the town lined up outside the church and around the corner to meet him, and he made sure to return the appreciation by not leaving a single fan out. By the end of the day, every fan that came out got a chance to meet him and take a picture with him. It was truly a special day.
Derek Carr joined the Oakland Raiders as a second round pick out of Fresno State University in 2014. While playing at Fresno State he was a two-time All-American selection and twice named the Mountain West Conference Offensive Player of the Year in 2012 and 2013. During his three years as the starting quarterback for the Bulldogs he threw for 12,843 yards and 113 touchdowns and earned the 2013 Sammy Baugh Award as the nation's top passer.
In 2014 he joined the Raiders as the new face of their franchise. Upon signing a four-year, $5.37 million contract with $2.2 million guaranteed he began a successful rookie season in Oakland that included a Raiders single season rookie record for passing yards. Through 14 games he had thrown for 2,898 yards and 18 touchdowns. Off the field Carr is a devout Christian and credits his faith for his making him the man he is today both on and off the football field.
To inquire about Derek Carr's speaking fee and appearance cost, contact the agents at Athlete Speakers by calling us at 800-916-6008 or by Starting Your Booking Request Now.
Watch Derek Carr Speaking with Jon Gruden on His Quarterback Reads: